I love making foil packets. They might take a little more time to put together, but when you start with pre-washed, ready-to-cook Little Potatoes it's easy!
What You Need to Make a Foil Pack
The most important part is, you might have guessed, the foil. If you're using a heavy-duty foil then you'll just need one layer, but if you're using regular aluminum foil, then make sure to double up with two layers to make it strong.
Pro tip: Use a layer of parchment paper on top of the foil. Its non-stick surface is an added bonus to the aluminum foil's protective power against the flames.
How to Add Flavor to Your Foil Packet Recipe
Now it's time for the fun part. You can add whatever kind of fresh herbs (like chives, rosemary, or thyme) and spices (like paprika, chili powder, or cayenne) to your veggies before starting up the grill. Get creative and have fun with it!
I like to use a simple, classic combination of onions, garlic, olive oil, and some salt and pepper. Once you've tossed everything together, you're ready to fold.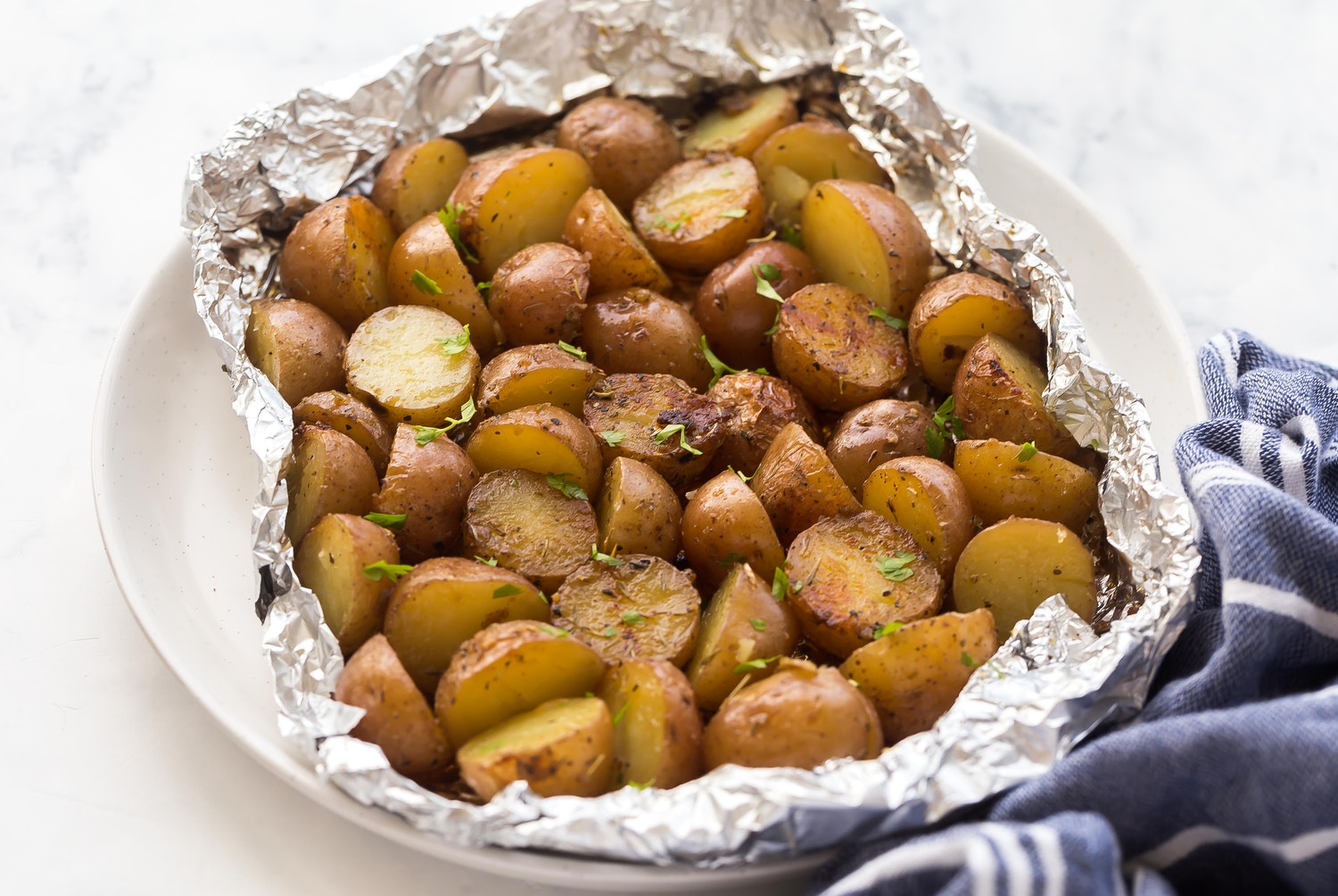 How to Fold a Foil Pouch
 Start from the side closest to you and fold all the way over to the other edge. Then, fold the top edges back towards you with about three small, airtight folds to seal the two sides together. By doing this, you keep the heat inside and create a pressure cooker, so the steam will cook your food.
Once the top edge has a few small solid folds, work on folding in the sides. Fold each side into a half-moon shape to complete the seal on both ends, and then you're good to grill!
Pro Tip: Do not poke the foil, you don't want to release any of that steam, leave it fully enclosed.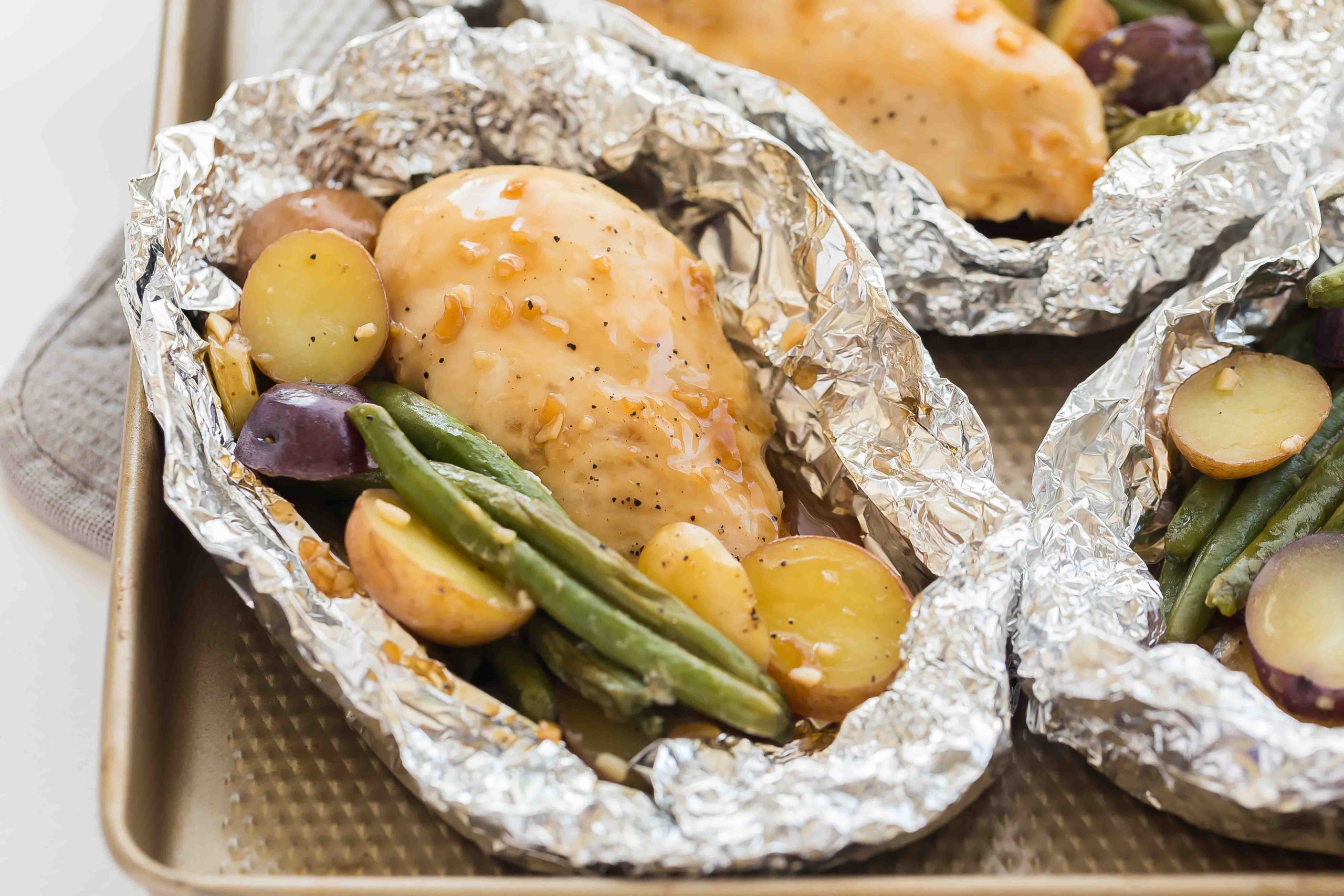 How to Cook a Foil Pack on the Grill
When deciding on how to cook your foil pouch on the grill, you have two options. You can use direct heat by cooking right on the flames, or use indirect heat by cooking away from the flame.
If you decide to cook directly over the flames to get your Creamer potatoes nice and crispy, make sure you remember to flip the pouch half way through cooking so you don't burn your potatoes. If you're using indirect heat, away from the flame, you can leave it to cook without flipping in order to get your potatoes more tender in texture.
Here's how to cook your foil pack:
Preheat your grill to 400° F.
Place your foil pack on the grill and close the lid.
Cook for 22 minutes at 400° F, flipping halfway through if cooking on direct heat. Trust your grill and don't poke the foil—you'll be releasing all that good steam!
Be careful when you remove the pouch from the grill, because there will be lots of steam inside, and then carefully cut open the pouch.
Plate your potatoes, add a little more seasoning if you like, and then they're ready to serve and enjoy!
Foil packs or pouches are so easy to work with, and a great way to enjoy cooking outdoors when the summer is too hot to turn on your oven. There are so many ways you can use foil pouches and flavor combinations you can choose. Ready to grill? Explore these foil pack recipes and get cooking!