Take the stress out of hosting Christmas dinner this year—with a master checklist. Whether or not lists are for you, having it all written down can ensure you don't forget staples like cranberry sauce, stuffing, or potatoes. It will take some of the pressure off when it comes to something as elaborate as a holiday family feast for 24, (especially after an extended period of not being able to have large gatherings and many of us are still feeling very out of practice).
Consider this a handy reference guide of the essentials you need to put it all together. And, if you are looking for just the right dish, try these tried and true, traditional-with-a-twist holiday dinner menu ideas. Happy celebrating!
Food
A comprehensive list of any nibbles and dishes you might want to serve at your holiday feast.
Starters

Protein
Turkey:  Defrost well in advance if buying a frozen bird and/or brine, then bring up to room temperature before roasting.
Maple-glazed ham: Let it come to room temperature before heating.
Any plant-based alternatives you might serve up for a vegan or vegetarian holiday feast.
Sides & Condiments
Vegetables
Sweets
Cookies, candy, and chocolates to pass around
Pie (with whipped cream or ice cream)
Drinks
Stick with the basics or get fancy with custom cocktails!
Champagne
Cocktails and beer
Coffee, tea
Eggnog
Pre-dinner cocktails/aperitif, post-meal digestif
Sparkling apple cider
Sparkling water
Wine—red and white
Equipment and Utensils
All of the odds and ends you might need to serve up a memorable feast.
Aluminum foil
Apron
Blender
Carving fork and a (sharp) knife
Colander
Corkscrew
Cutting board
Kitchen scissors
Meat thermometer
Mixer
Oven mitts
Parchment paper and/or silicone baking sheets
Pastry brush
Pie pans
Plastic wrap
Platters
Potato masher–to make these mashed potatoes with goat cheese and thyme, or another variation with chorizo and leeks
Roasting tray
Rolling pin
Serving bowls
Serving spoons and forks
Tea towels
Tongs
Turkey baster, kitchen twine, trussing pins
Wooden spoon
Resealable containers for leftovers
Five of our Favorite Holiday Dishes:
Need some extra inspiration? Here are five of our favorite holiday dishes to get you started.
Beautiful, dramatic, traditional — this meal-in-one dish elevates the feasting table to sophisticated elegance. Culinary herbs bring out the flavor of tender, juicy slow-roasted lamb, paired with purple-blue Little Potatoes and bright orange carrots.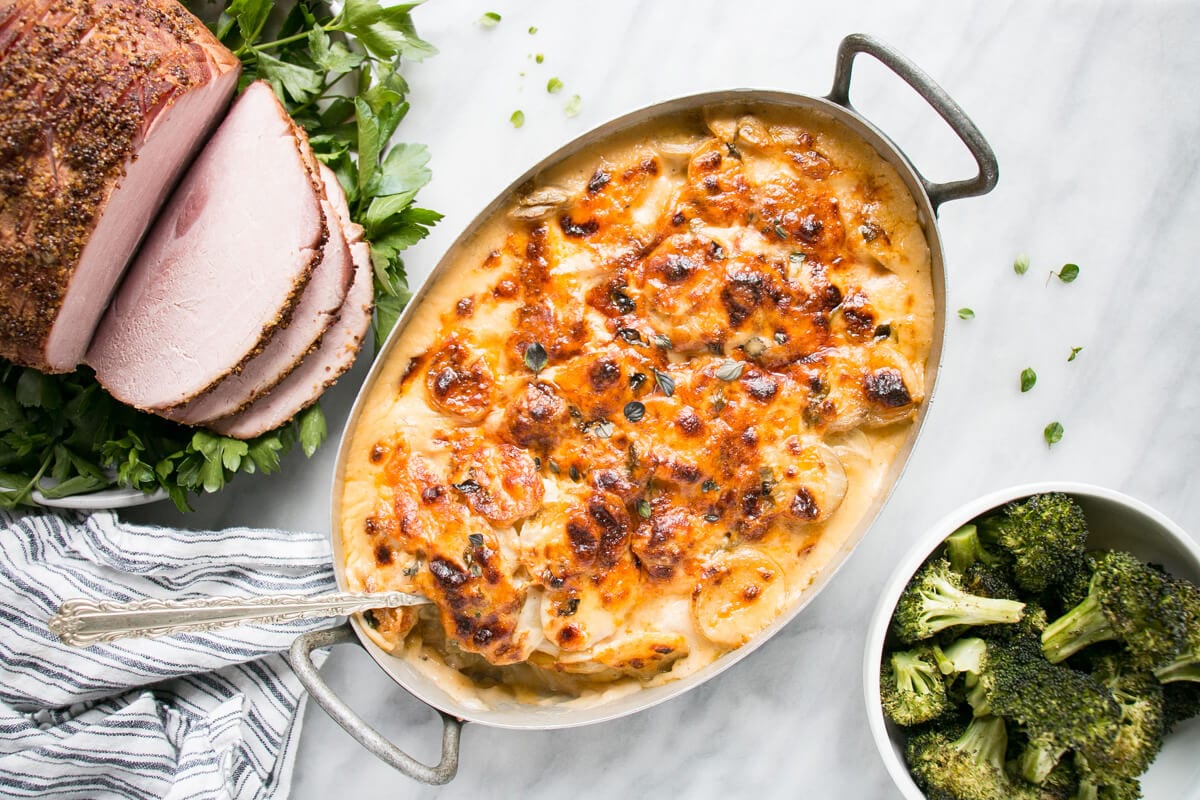 Bubbly-brown on top with a smattering of fresh thyme leaves, this classic never tasted so good. Buttery Creamers with garlic, sharp and aged cheddar, Parmesan, and a dash of sweet smoked paprika make this traditional holiday dish silky-smooth and deliciously decadent.
If you're feeling ambitious, and like you really want to outdo yourself, this leek and Creamer potato galette is the perfect dish to serve up. It looks absolutely gorgeous and will level up any holiday spread.
These little bites are bright and festive, garnished with a curled squash peel. Sweet butternut squash 'noodles' make the perfect foil to piney, pleasingly bitter sage
An easy, herby side dish of roasted Little Potatoes with dill, parsley, and onions.