Summer is right around the corner. Isn't it glorious? It seemed to us like the right time to talk about delicious, seasonal, creative summer Little Potato dishes you can put together anywhere. Think portable, versatile, and tasty, while at the same time taking advantage of the fresh warm weather harvest—plump tomatoes, earthy carrots and beets, sweet corn, and crunchy green beans.
Try these stand-out recipes to match your summer scenario:
Picnic
For an alfresco meal on a blanket—in a wildflower-dotted grassy field surrounded by mountains, windswept sandy beach, or leafy urban park somewhere—you want something you can make the night before, pack easily and enjoy at room temperature.
Light, naturally creamy, and healthy, French Potato Salad will pair winningly with your gourmet picnic of cold BBQ chicken drumsticks, artisan cheeses, juicy grapes, and crudité. Dijon mustard and vinegar—mixed with fresh Italian parsley, chives, shallots, garlic, tarragon, and thyme—add zip, without the traditional heaviness, to this potato salad. Prepare in advance and pack in a serving bowl. Just add a bottle of French Semillon. Voilà!
Potluck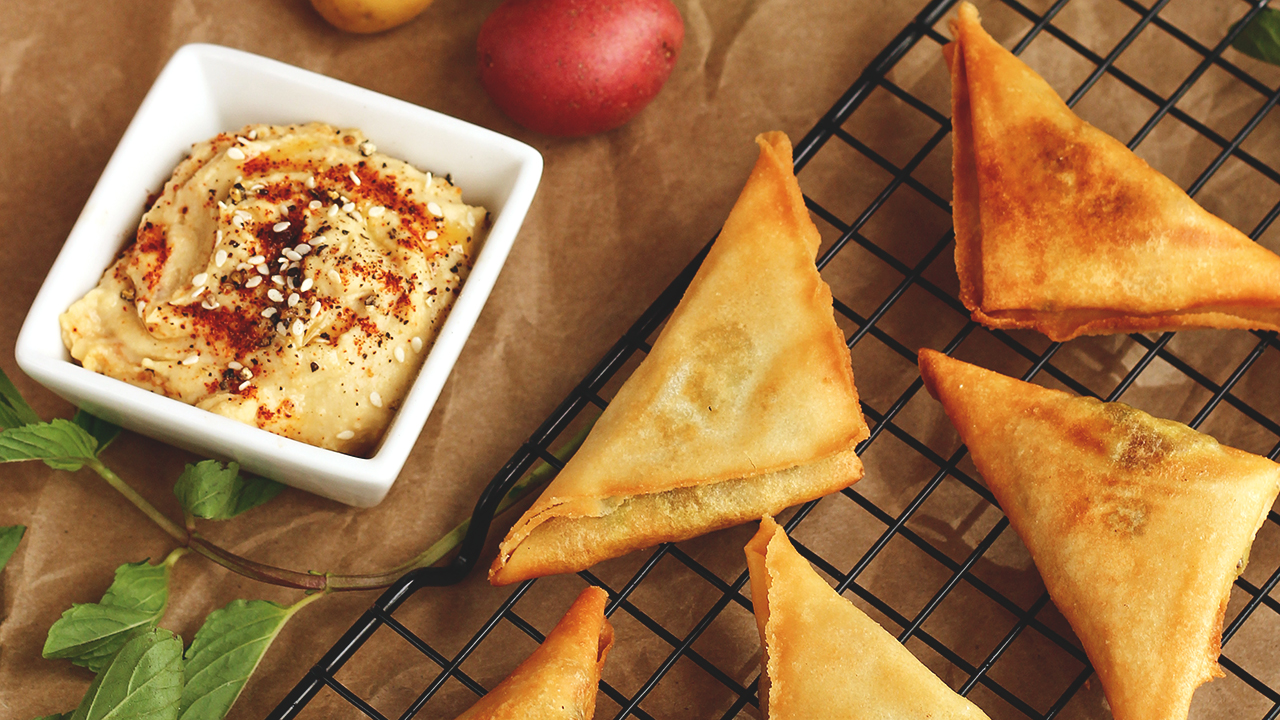 You want to bring something with flair to the potluck table, but it has to stand up well to transportation. Two-bite Vegetable Samosas look lovely and add an ethnic flavor to the mix. These are crispy-fried triangular rolls filled with diced Little Trios peas, carrots, onion, clove, paprika, turmeric and yellow coconut curry. Make in advance, then reheat in the host's microwave before setting out. Serve on a colorful plate, or in fun individual ramekins, garnished with fresh mint leaves and a side of chutney.
Camping or BBQ
Dining in the great outdoors presents its own roster of challenges; one of which is breaking out of the usual old hot dogs and boxed macaroni-and-cheese on the camp stove routine. Potato Shish Kabobs are not only good for you, but they're also attractive, easy, and a whole meal in one. Cook the chicken/tofu and potatoes in advance. Then assemble skewers adding the (uncooked) peppers, zucchini, onion, and mushrooms. Pack into a sealed, leak-proof plastic container to keep in the cooler til dinnertime. Grill over the campfire for about five to seven minutes until the veggies are done. Serve with a crusty baguette on the side.
Too hot to turn on the stove? Make this outside on the BBQ/Grill. The kitchen will still be pleasantly cool when dinner is done!
Vacation House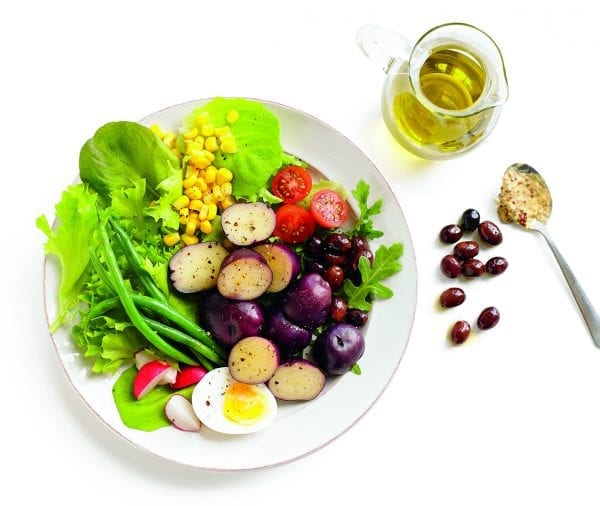 Let's say you've booked a beachfront condo in Maui with an en-suite kitchen so you can enjoy some meals in. What you need are recipes that aren't too complicated and don't require too many dishes, pots, and pans or fancy prep. Because, really, who knows what the condo kitchen will supply?
Try Nicoise Salad with Potatoes and Dijon Vinaigrette, the quintessential light summer salad, with green beans, radish, corn, cherry tomatoes, boiled eggs, olives, and Little Trios This one is really about assembly versus cooking and allows the fresh, seasonal ingredients to steal the show. Instead of boiling, use our A Little Savory Herb, which cooks quickly in their own tray, to keep things simple and reduce cleanup. See what fresh produce you can find at the local farmers' market!
HAT'S YOUR FAVORITE PORTABLE SUMMER POTATO RECIPE OR PICNIC TIP? DISH!