Reclining in a flower-carpeted meadow under the trees rustling in the summer breeze, napping in the sun, toasting the day with a chilled bottle of white and feeding grapes to your honey, or watching the kids run and play while you relax with a page-turning novel.Is there anything lovelier than a lazy afternoon picnic? And what about an easy, tasty picnic? Even better.
National Picnic Day is April 23, if you needed a reason, we're officially trumpeting the start of the season. Here's how to host an idyllic al fresco meal that's as simple and quick to prepare as it is scrumptious and good-for-you.
Plan just a little
Choose the right spot where you can relax and enjoy the scenery, not be overrun by frolicking canines or kids, or overpowered by the guy nearby's BBQ smoke. Nature parks are great or community parks that have off-the-beaten path bowers and meadows where you set down your blanket.
Some botanical gardens allow picnicking, as do university gardens, or try a lookout pull-out atop a local mountain for lunch with a view. (Look for anthills before you set down your gear and start unpacking.) The beach is always a gorgeous option, too. You want something romantic or private-ish, reasonably accessible and not too far from the parking lot. Reserve if you need to and if you can, take a weekday summer afternoon off to beat the crowds.
Pack the essentials
Make sure you've got the must-haves so you don't arrive only to realize you forgot the blanket or basket. Here's a handy checklist:
Picnic blanket
Picnic basket or backpack with the food
Thermos or bottled water (in plastic)
Lemonade, sparkling water and/or wine
Corkscrew if needed
Silverware (bamboo flatware is ideal)
A sharp knife, tucked into a blade protector
Plastic or metal cups
Napkins, paper or bamboo plates
A zipped cooler bag for your edibles
A dishtowel and rag for spills (wrap any glass containers in these, too, for transport)
A solar votive or two for ambiance
A lantern and flashlight if you'll be staying past sunset
A bag for trash/recyclables
Wasp guard, bug repellent, fly swatter
Binoculars, a local bird-watching guide
A kite, for fun!
Choose the right foods
Make one of these picnic-worthy recipes for delicious, inspired fare that's as nutritious as it is flavorful.
Classic Potato Salad with Bacon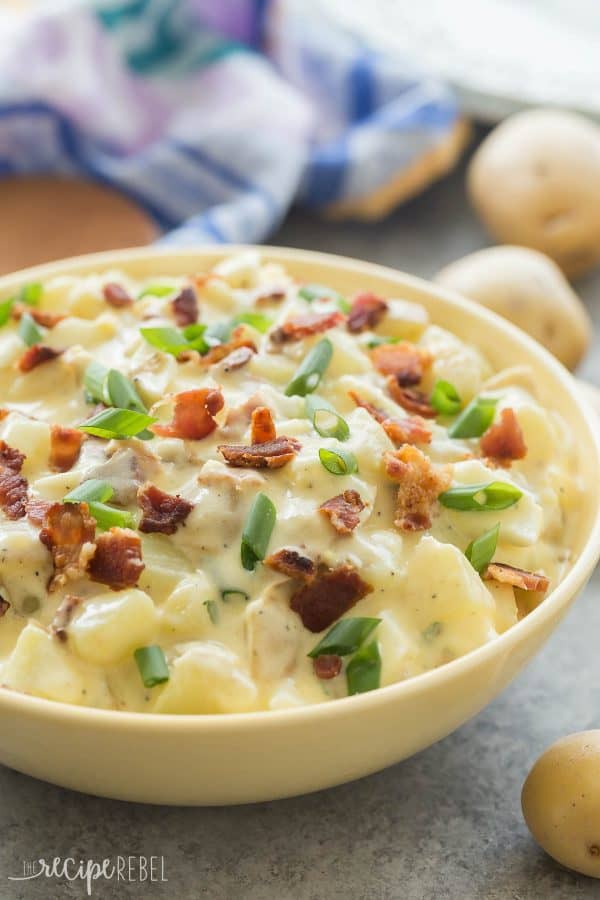 Think: bite-sized. You don't want to pack anything goopy that's going to slop out and make a mess or drip all over your picnic blanket, either. So the format matters. Prepare tidy finger sandwiches, easy-to-eat wraps, festive kabobs or personal salad jars. Do all cutting and assembling beforehand to keep things simple and mess-free.
Classic Potato Salad with Bacon is a yes—super easy and fast to make, and stores well in an airtight container. Refreshing chilled watermelon is luscious, but better for a home BBQ party than a picnic. Apples or grapes, for example, are the superior, more suitable choice.
Healthy Niçoise Salad Jars with Roasted Garlic Lemon Dressing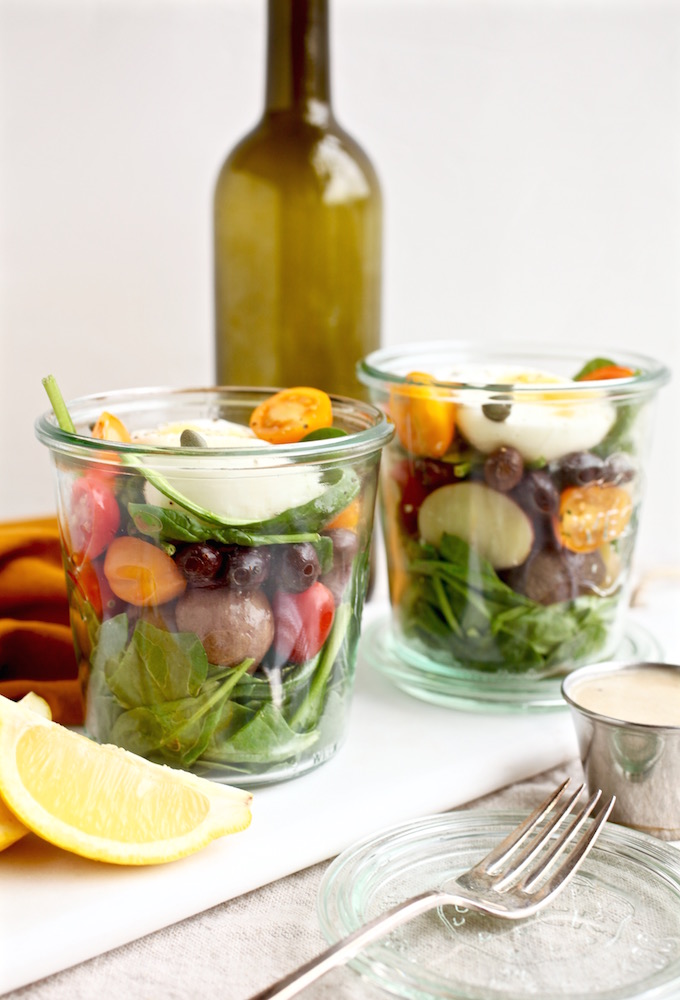 Make everything the morning of or the night before and store it in the fridge. Then, you can just grab your bag and go. The point is to savor the moment, glorious warm summer weather, and pretty scenery, and not be slicing, dicing, and tossing onsite.
You'll love your own personal salad jar layered with a classic French niçoise in a fun portable container. Drizzle sparingly with the roasted garlic lemon dressing right before you head out and seal jars tightly.
Mini Goat Cheese Stuffed Potatoes
Go Greek! Pack a container full of colorful Mini Goat Cheese Stuffed Potatoes, loaded with a creamy filling of tangy goat cheese with either roasted red peppers and briny Kalamata olives or an exotic combo of pistachios, honey, and cinnamon.
Potato Pizza Skewers
A kebab layered with cherry tomatoes, herbed Creamers, mozzarella, and pepperoni (or salami), Potato Pizza Skewers are easy to pack 'n stack in Tupperware and as satisfying as pizza, yet far healthier and lower calorie. Add a side salad and your lunch is complete!