Whether you're planning a camping trip or just trying to add a little flavor to your weekdays this summer, Little Potatoes are the perfect companion for campfires, cookstoves, and grills alike. With so many beloved camping favorites—hot dogs over the fire, 'S'mores, and even those mini individual cereal boxes for breakfast that kids love—these recipes will be easy additions to your food roster.
Roast or Grill Ready Little Potatoes in particular are so easy to pop on the grate, over the fire pit, or on your camp stove to pair with any of your favorite meals. Simply tear off the plastic seal, remove the seasoning pack, add in the seasoning with some cooking oil, stir, and you'll have crispy roasted potatoes ready in 30 minutes. You can also mix them into a potato salad, skewer them with some meat and other veggies, or mix them into a foil pack with eggs and sausages for breakfast. From hash browns to kebabs, to chilled salads, they're such an easy and versatile addition to all your meals. Here are a few suggestions to get you started:
Cajun Potato, Corn, and Sausage Kebabs
You only need five ingredients to make these, and you can make it so simple by pre-boiling the corn before you get to the campsite. All you'll have to do when you're ready to start preparing is add it to the skewer with the potatoes and sausages and you'll speed up prep time. They're also super customizable; if sausages aren't your thing, you can easily swap them with chicken, shrimp, or tofu.
A camping favorite—foil pack recipes are so easy to make over the fire pit or on the grill. Just make sure you're using heavy-duty foil, and add extra durability by adding a layer of parchment paper inside the foil. With a few veggies, spices, breakfast sausages, eggs, and Little Potatoes, you'll be starting the day deliciously. Truly the only thing better than potatoes is breakfast potatoes.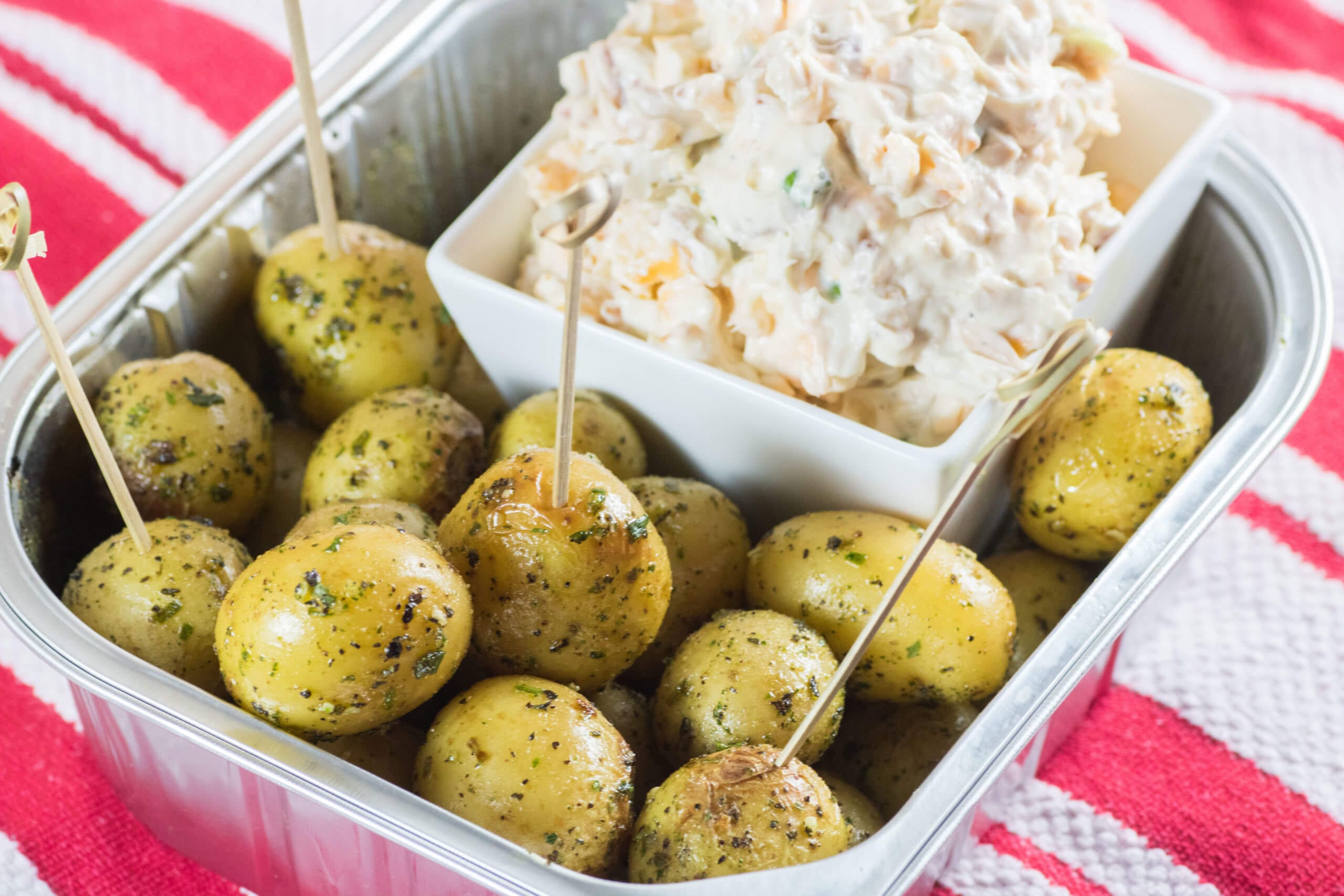 Make the dip at home before you leave, then when you're ready to make dinner simply roast the potatoes for 30 minutes, skewer with a toothpick, and serve.
Prep the dressing and pre-boil the potatoes and you'll be able to toss this salad together in minutes. You can swap the bacon for store bought bacon bits to really simplify it as well.
Want to make sure you have everything you need? We've put together a guide for the essentials. Still hungry? Sign up for our emails to get no-fuss recipes and cooking hacks delivered right to your inbox.