This year we all spent more time in our kitchens than ever before. Whether it was learning how to cook, or learning how to meal plan differently, there were some tried-and-true recipes in our Recipe Center that were your go-to's.
Many of these recipes have a common thread: simplicity, comfort, and flavorful finger foods. Snacks for game days at home, easy one-pan or one-pot meals, and a lot (like, a lot) of cheese. We've listed out our most popular recipes of the year here for you to explore and find a Little inspiration going into 2021.
Inspired by potato skins, these smashed potatoes are ready in a snap with our Microwave Ready Little Potatoes. With a few simple toppings, a generous amount of cheese, and an easy homemade dipping sauce, it's no wonder this appetizer made the top 20.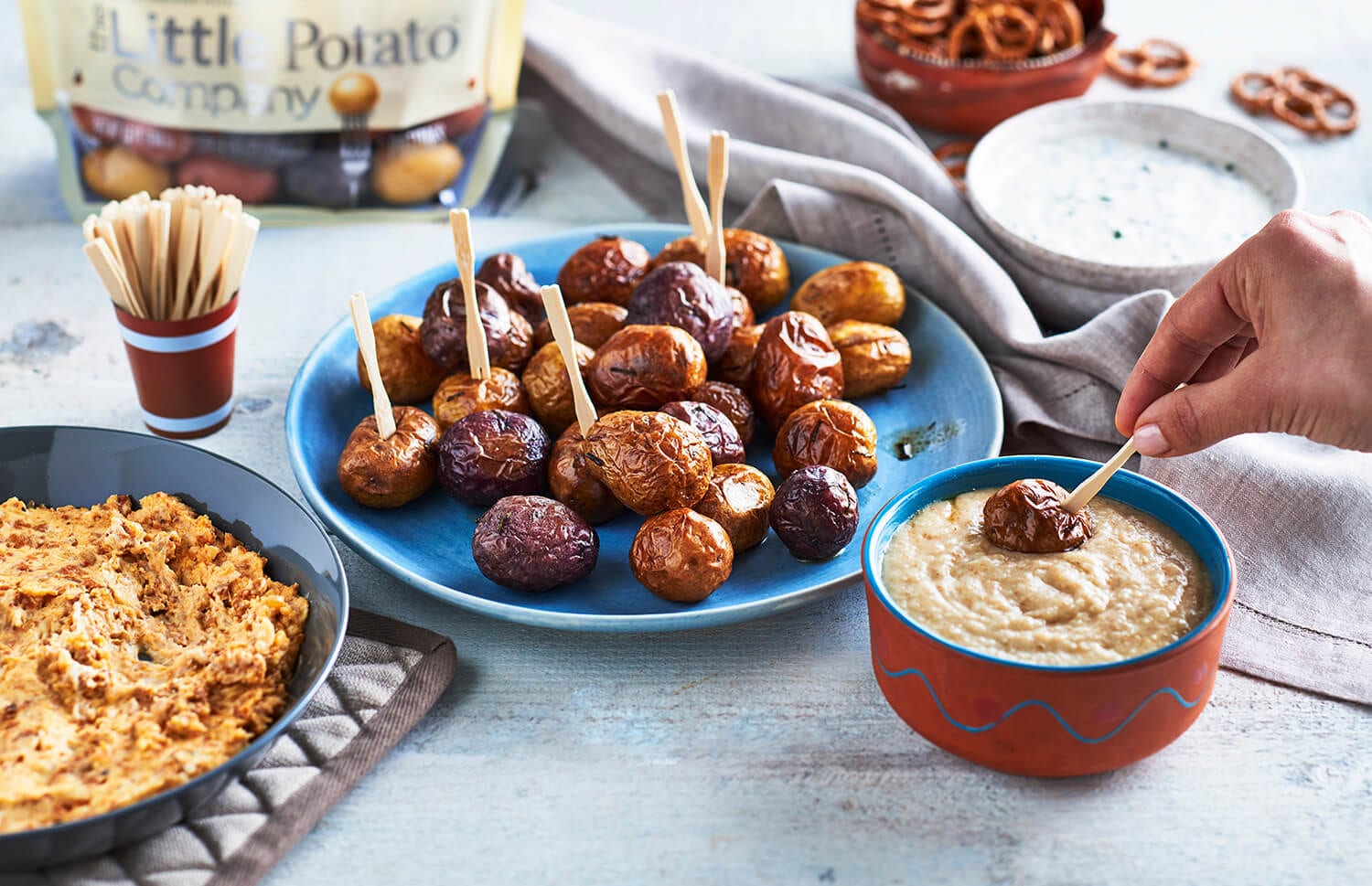 One of our game day favorites.  Roast up some Creamer potatoes and serve with a good selection of dips: Queso, beer cheese, and ranch. Just skewer your potatoes with a toothpick and get dipping.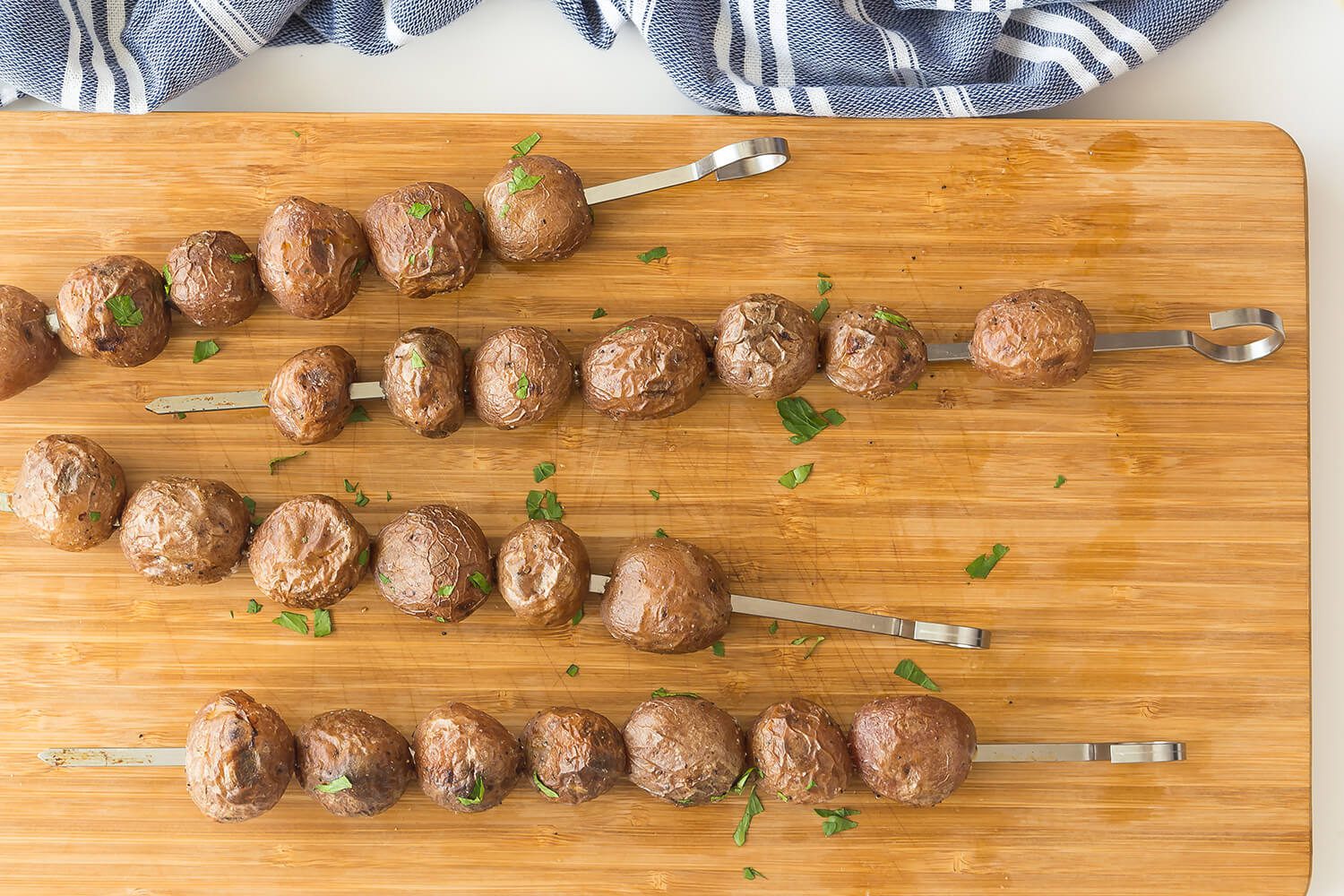 It doesn't get much easier than this. With five ingredients and a few minutes of prep time, these skewers are an easy accompaniment to any of your favorite grilled dishes.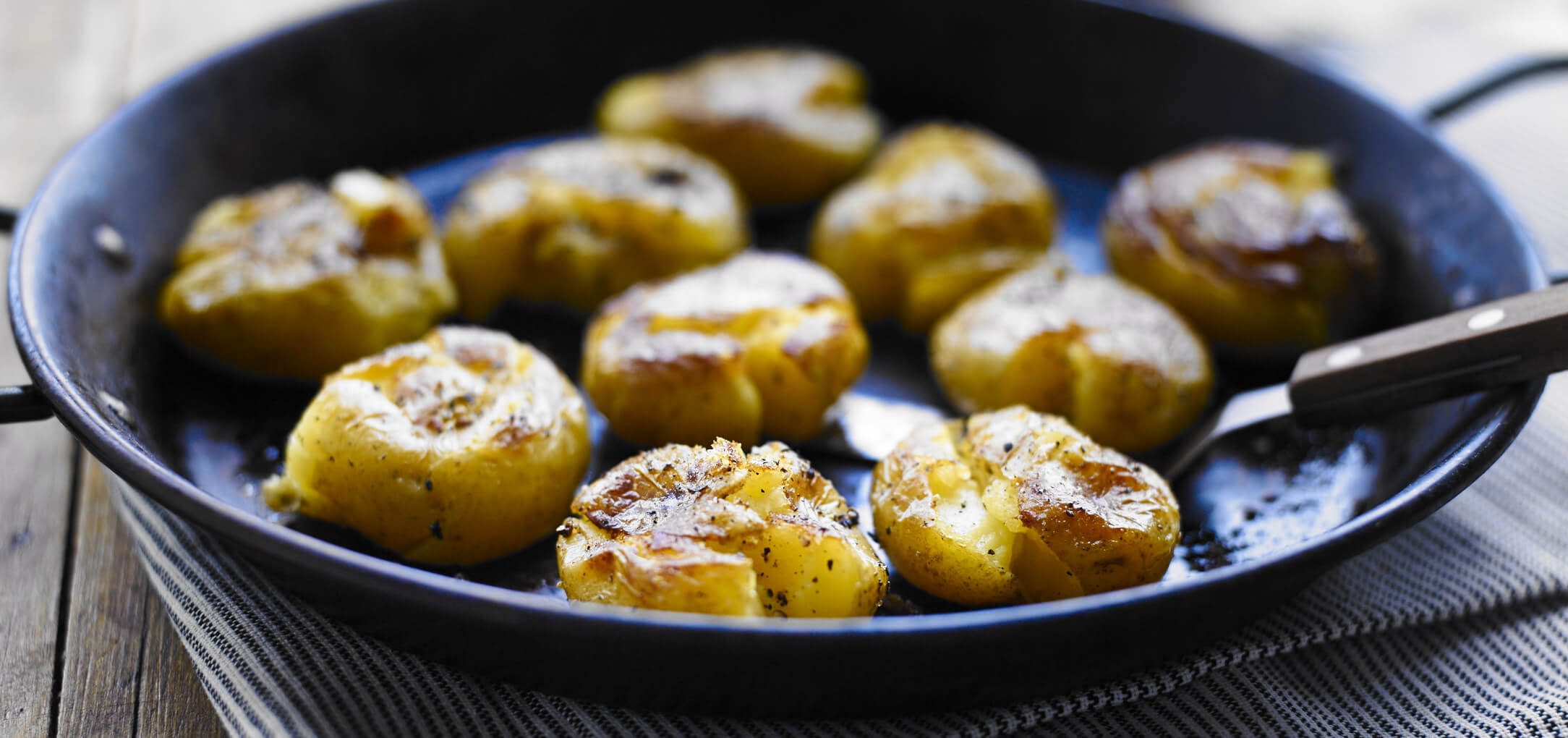 If you own a slotted spatula, or have a wine bottle in your kitchen, then you are officially qualified to make smashed potatoes. All you need to do is gently press down on your boiled potatoes before roasting them in the oven with some oil and spices, and you've got a salty, delicious appetizer.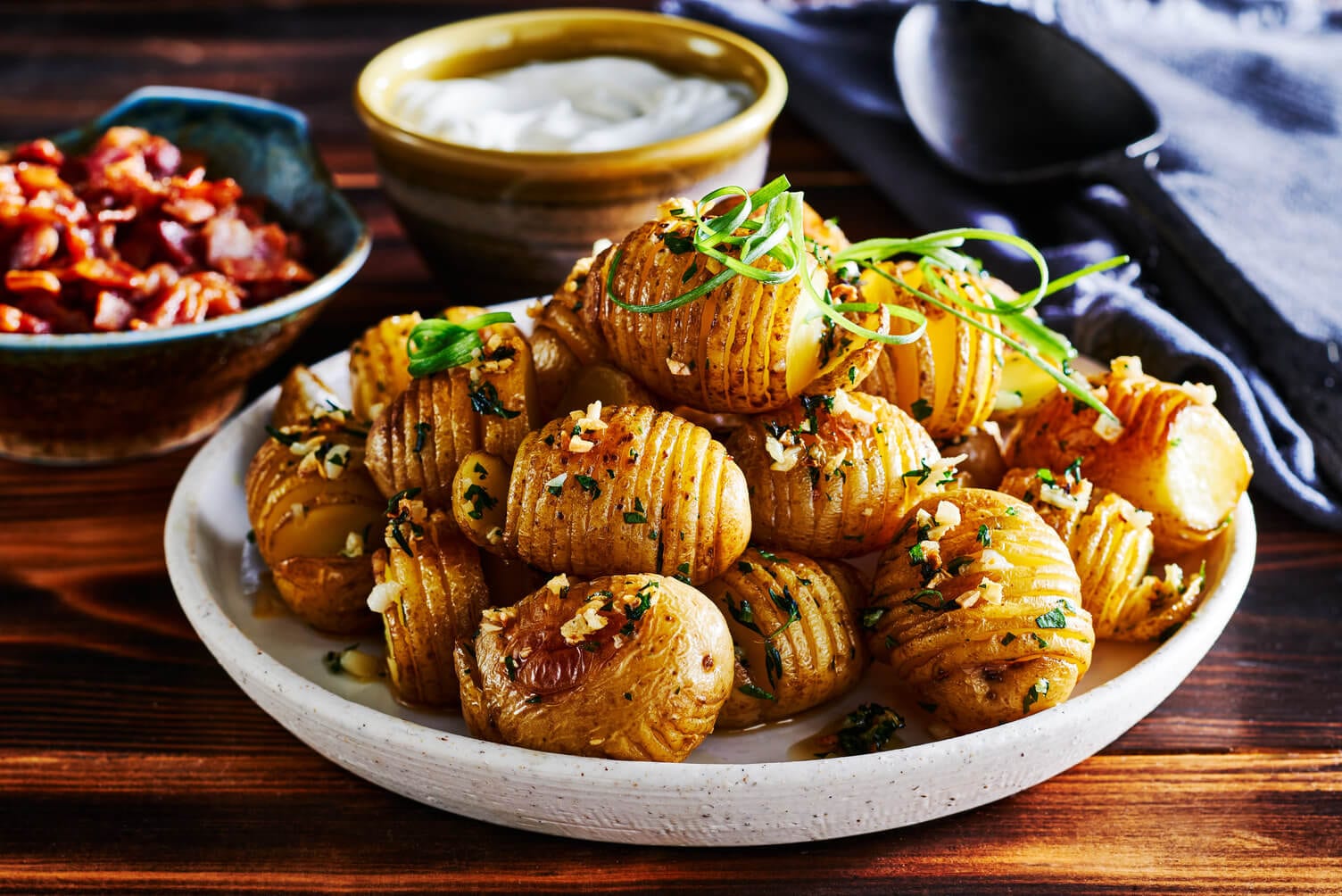 The classic 'easier-than-it-looks' appetizer, hasselback potatoes only require one specialized tool: a wooden spoon. By using it to hold your potato as you slice, you ensure you don't cut all the way through in order to get it right every time.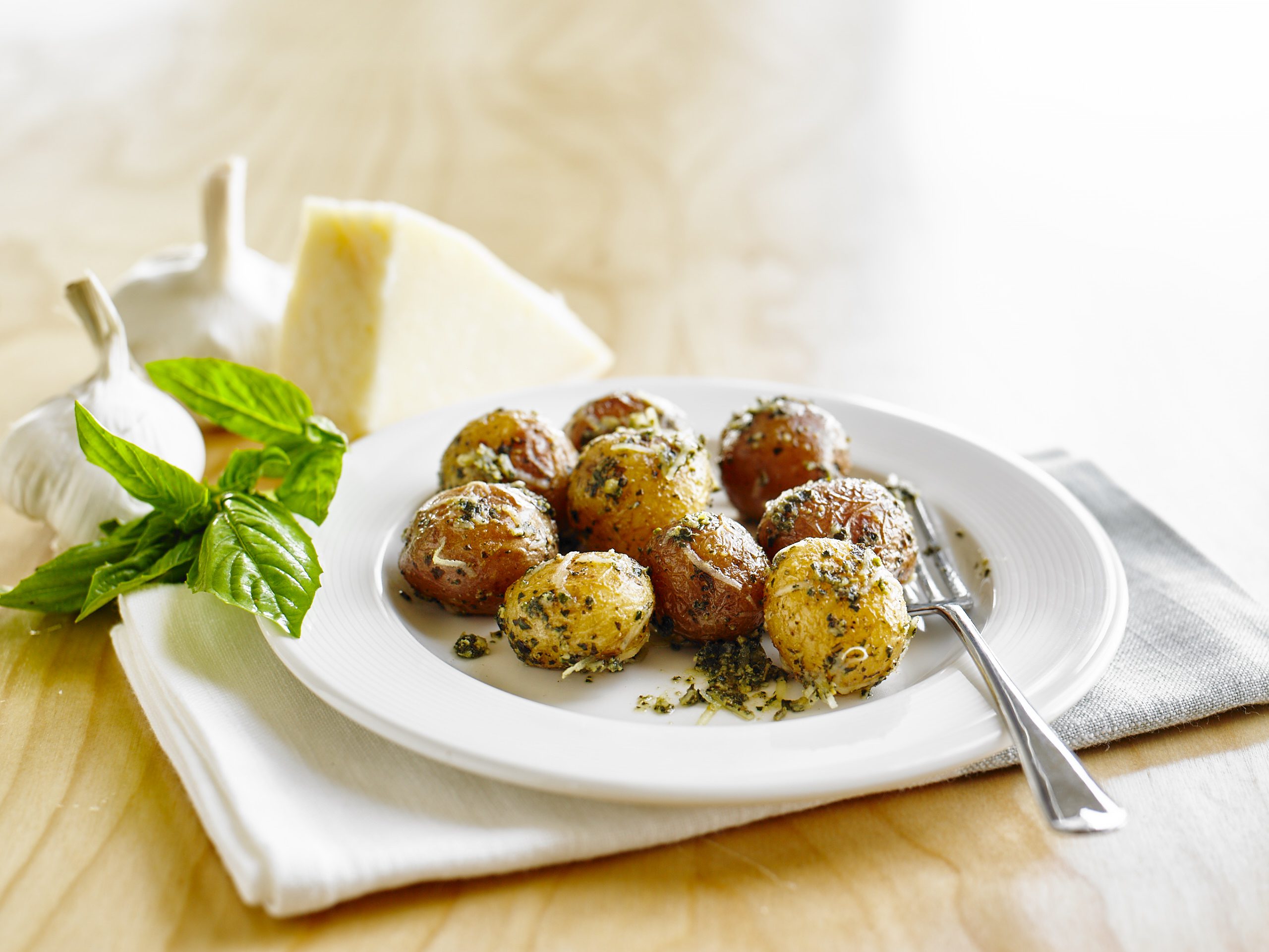 One of our most iconic recipes, this recipe calls for roasted Creamer potatoes, Parmesan cheese, shallots, basil, and garlic. They're a flavorful, savory addition to any main dish.
Layers and layers of sliced Creamer potatoes and cheese mixed with onions, garlic, and cream. Classic dishes like this were such a familiar comfort this year.
Another simple, five ingredient side dish that's ready in minutes. Parsley, lemon juice, garlic, and a few simple seasonings make this an incredibly versatile side dish for any day of the week.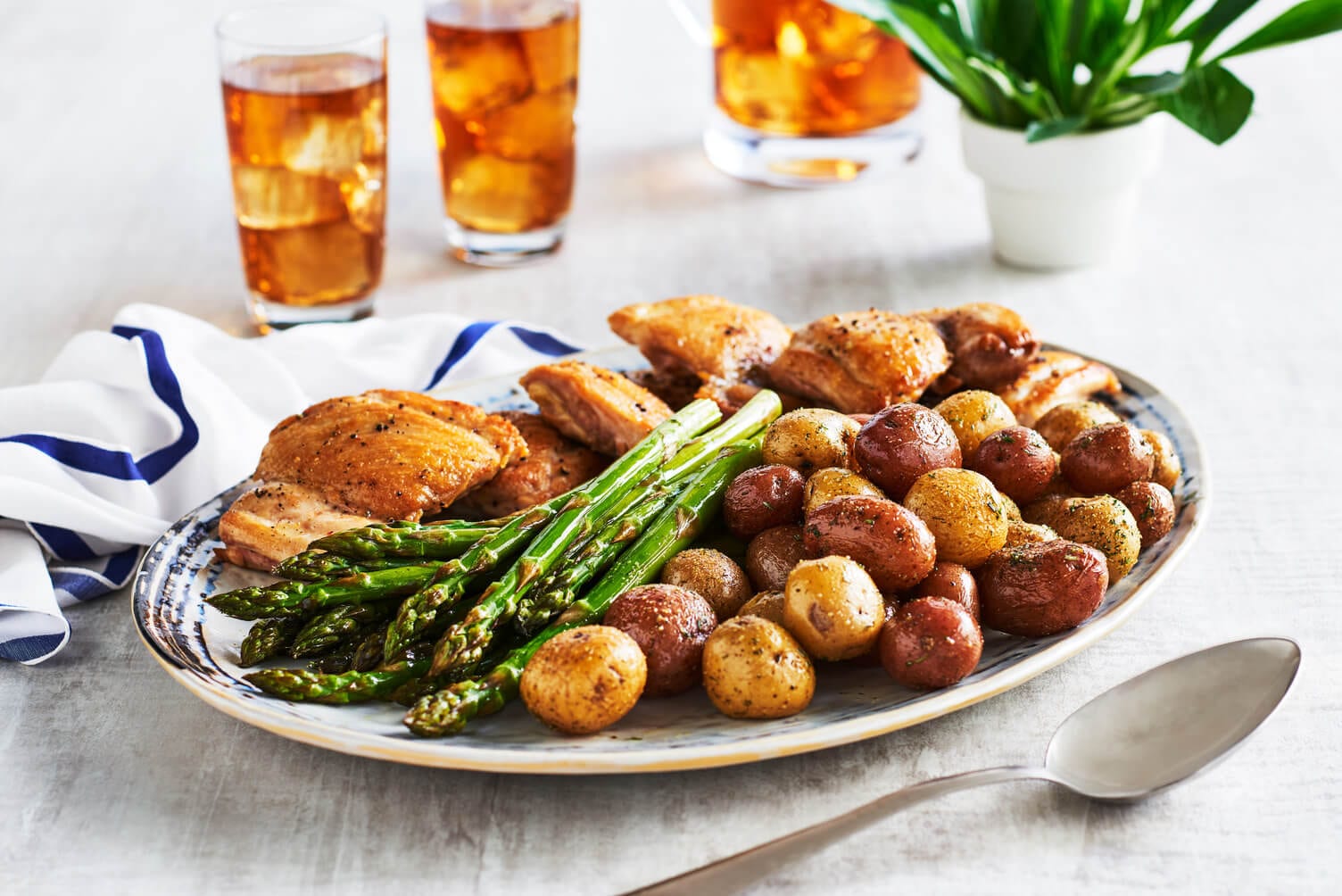 This easy one pan meal was featured in one of our first Easy Peazy Recipe e-Books! We collected some of our simplest, no-fuss recipes with pantry staple ingredients to make your meal planning a little less stressful. Want your own copy of the e-book? You can find it in our e-book library along with the rest of our Easy Peazy collection.
It's no surprise that this was one of the top recipes of the year—this one's been a long time favorite. Cheese, Creamer potatoes, chives, and bacon bits cooked conveniently in a foil pack for easy clean-up. A backyard cookout staple.
Cheese, milk, potatoes, and garlic are clearly a winning combination in creating simple comfort foods. We love scalloped Little potatoes because they create perfect bite-size slices (and we don't have to lose half the potato to peeling beforehand) and you can create so many layers of deliciousness.
Master Chef Michael Bonacini shows how to enliven halved Little potatoes into tasty nuggets drizzled in pesto, with only 10 minutes prep time. Perfect to pair with a roast chicken or fish.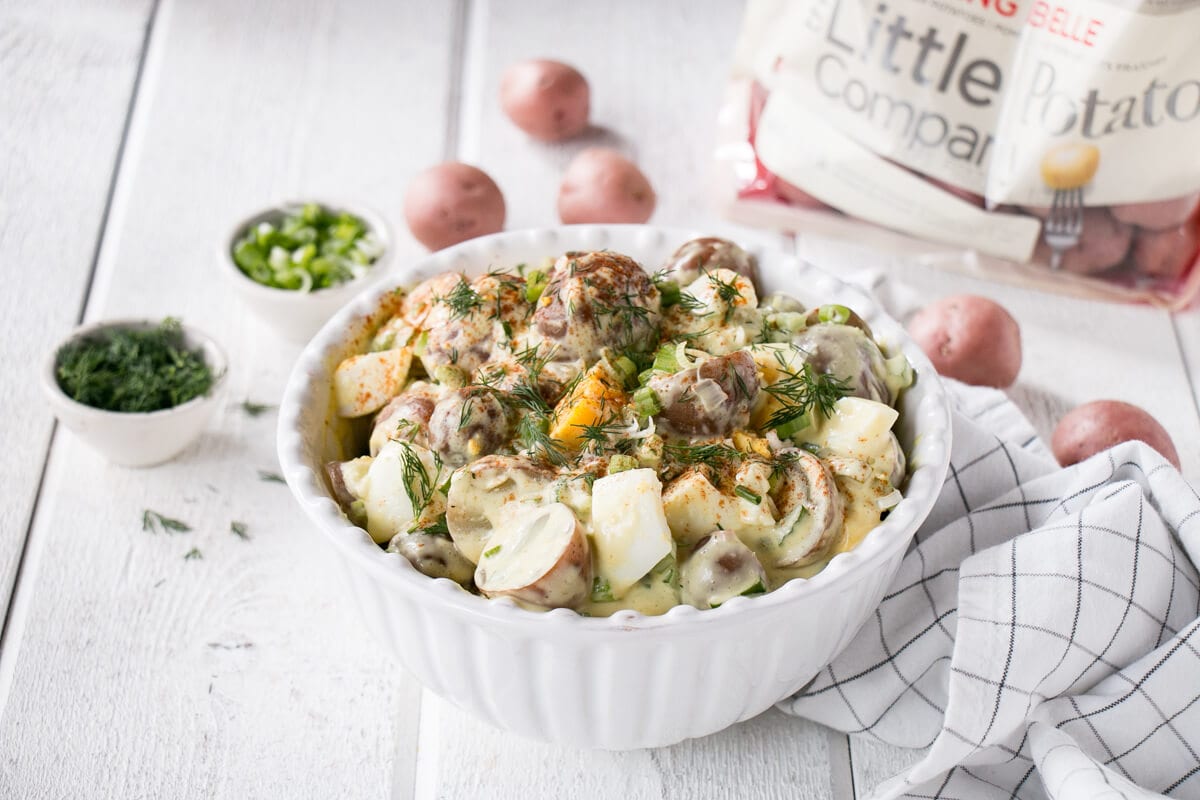 A triumphant staple recipe, this is the ultimate classic potato salad. Little potatoes' colorful skins add texture and vibrance to this dish, while dill pickles and apple cider vinegar add so much flavor.
Corkscrew-shaped potatoes seasoned to perfection and skewered for easy dipping—these potato snacks bring that food truck energy to homegating.
This one has been a staple in our Recipe Center for a number of years, and it's easy to see why. This loaded baked potato soup puts all of your favorite baked potato toppings into one hearty and comforting bowl of soup.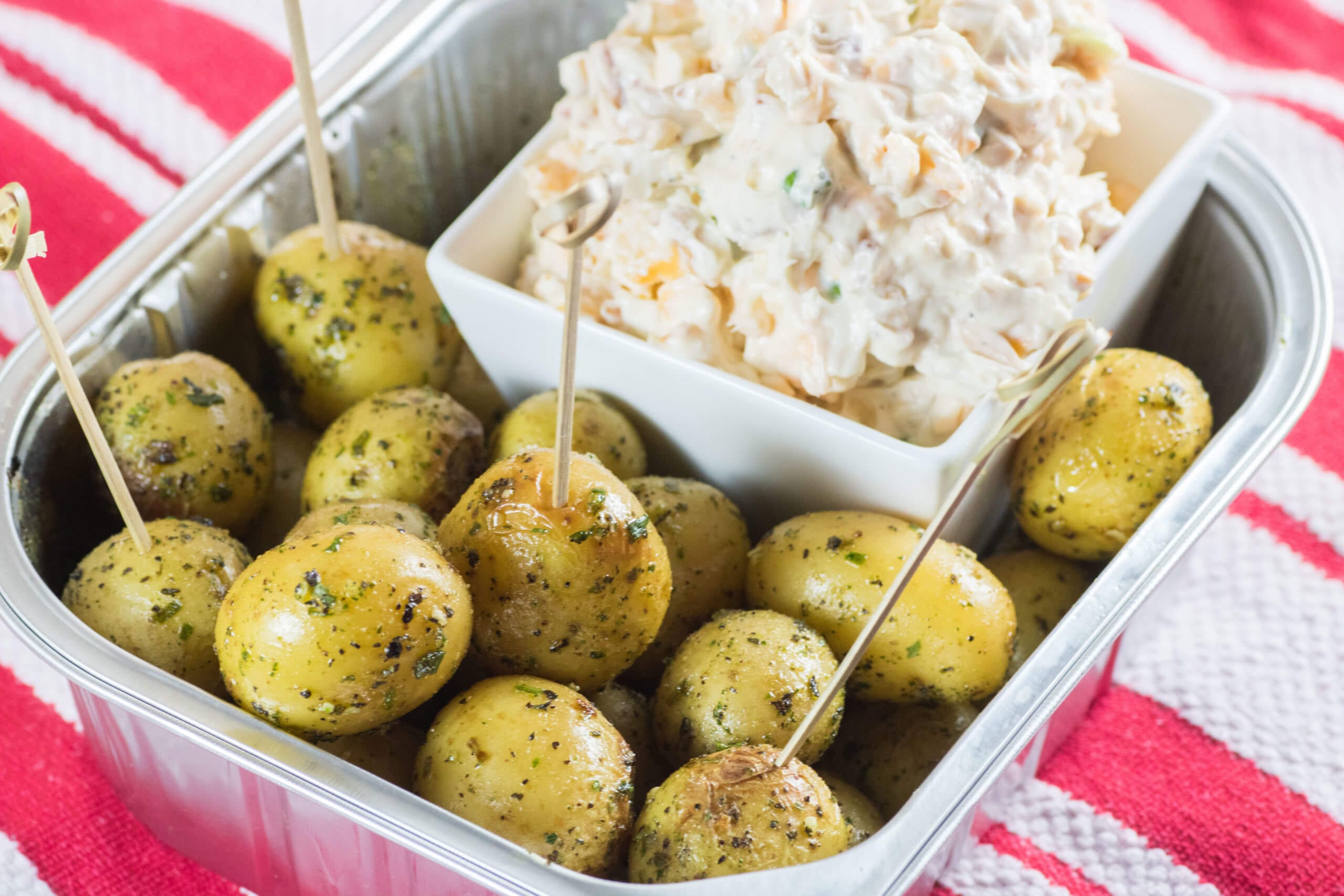 Made with our Oven | Grill Ready Little Potatoes, all you need to do is skewer the potatoes and whip up this cheesy, creamy million dollar dip to serve them with.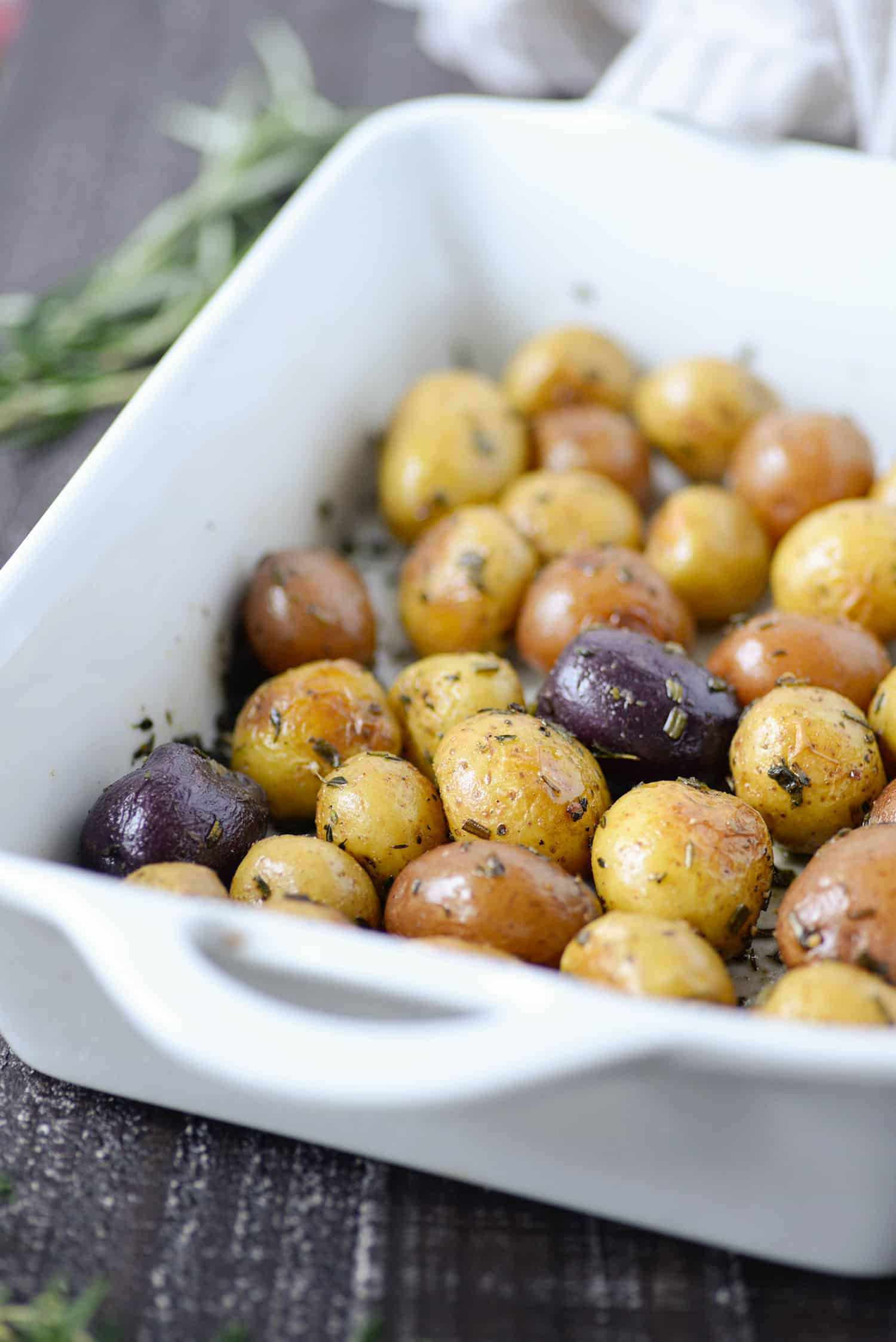 A simple roasted potato recipe with sage, rosemary, and thyme. It needs minimal prep, and goes with just about any main dish.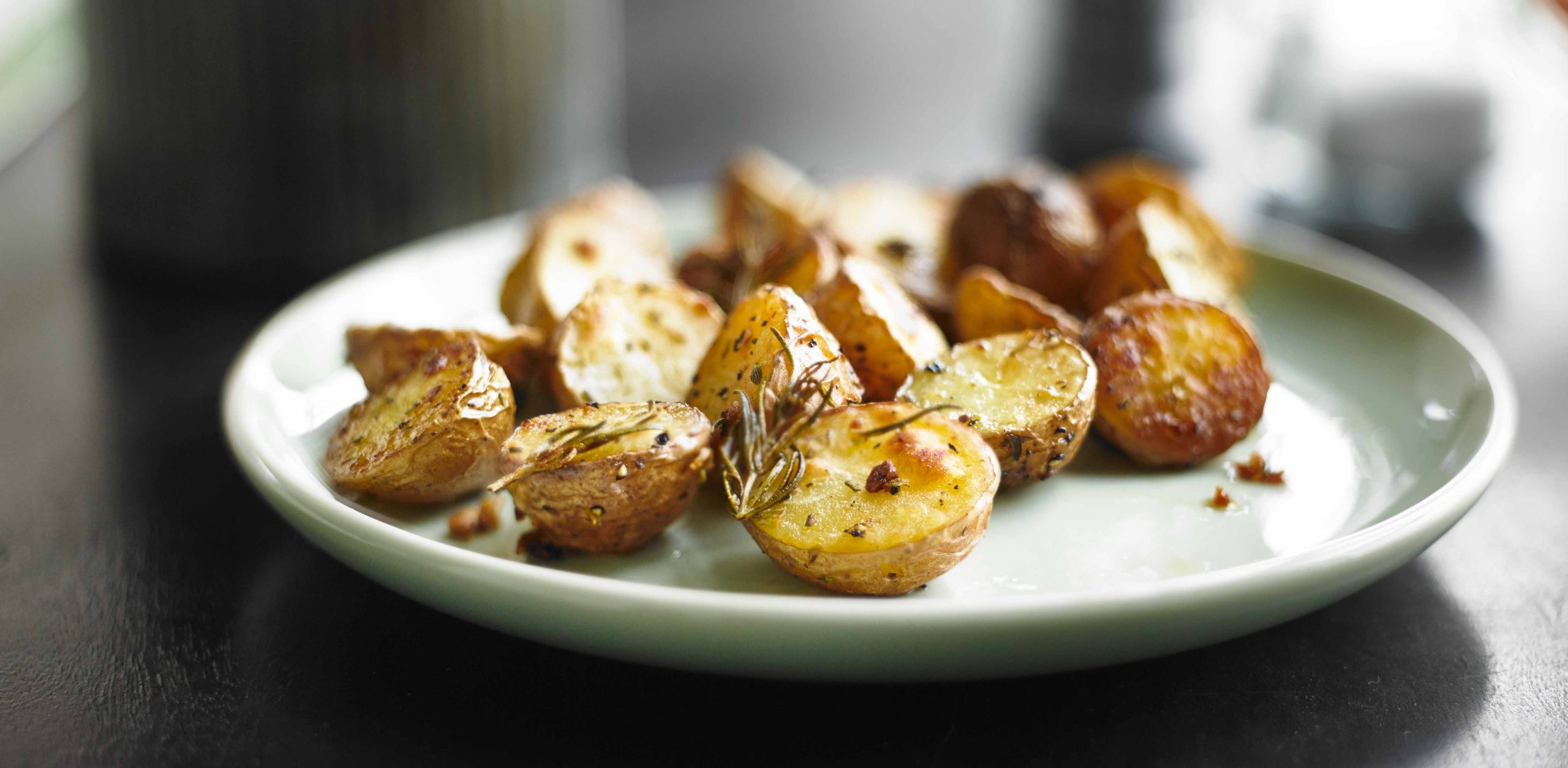 Simple roasted potatoes doused generously in lemon juice, garlic, and sprinkled with rosemary. This dish is perfect to pair with Greek food, chicken, and fish.
Toss carrots and potatoes together in garlic butter and roast to perfection. An easy side dish to whip together in a flash.
Perhaps the most accurate summation of a year where we needed recipes that just worked, that were fast, and that didn't use a bunch of fancy ingredients. With less than five ingredients, and very little prep time, these easy boiled potatoes were our most popular recipe this year. You can look forward to a lot more recipes like this—conventional recipes made even easier with Creamer potatoes—in 2021 and beyond.
Want a little more dinner inspiration? Try our Easy Peazy Recipe Seeker tool to search for something to cook tonight.