Sheet pan dinners are perfect for those mid-week meals when you're running out of steam but still want to get a thoughtful, nutritious dinner on the table. Whether it's mixing everything on a baking tray and roasting it, or combining everything in a skillet on the stovetop, there are endless ways to create easy, stress-free dinners for any night of the week. Here are 10 different variations to get you started.
1. One-Pan Roasted Jerk Chicken and Potatoes
Add some (mild) heat to your week with this recipe for homemade jerk chicken. Toss the chicken, peppers, potatoes, and onions in your seasoning, bake for 25 minutes, and that's it!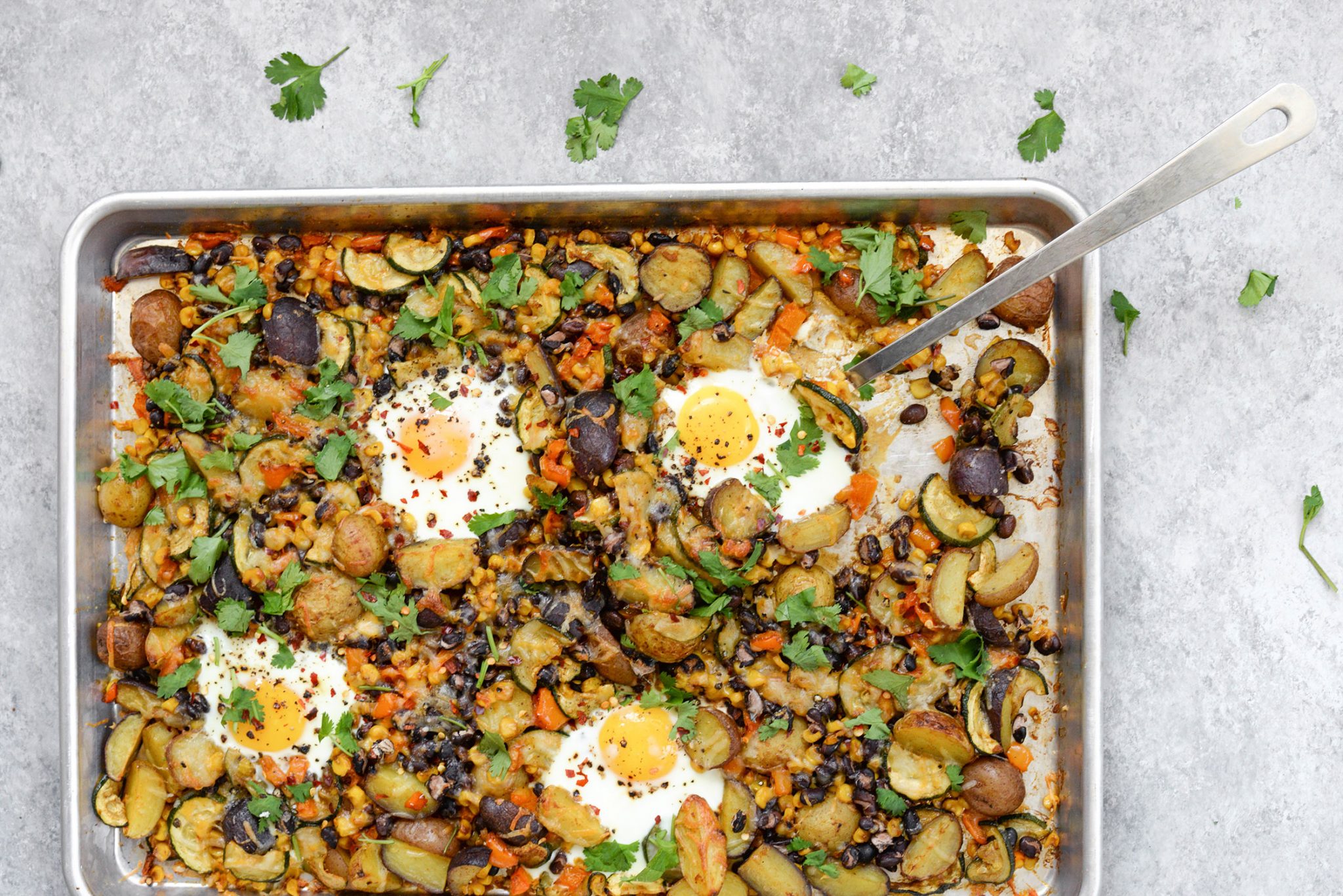 Start by roasting the potatoes, zucchini, and some spices for 25 minutes, then add in the black beans and corn. The trick to getting the eggs to stay in one place is by making small wells in the veggies to crack the eggs into. Sprinkle with some shredded cheese and bake for another five minutes to have everything cooked to perfection. If you're a brunch lover short on time in the mornings, having breakfast for dinner could be for you.
Grab a whole chicken from the grocery store (or if you want to save even more time you can start with a pre-roasted one and simply roast up some veggies). All you need are carrots, onions, Little Potatoes, and some spices for this one-pan dinner.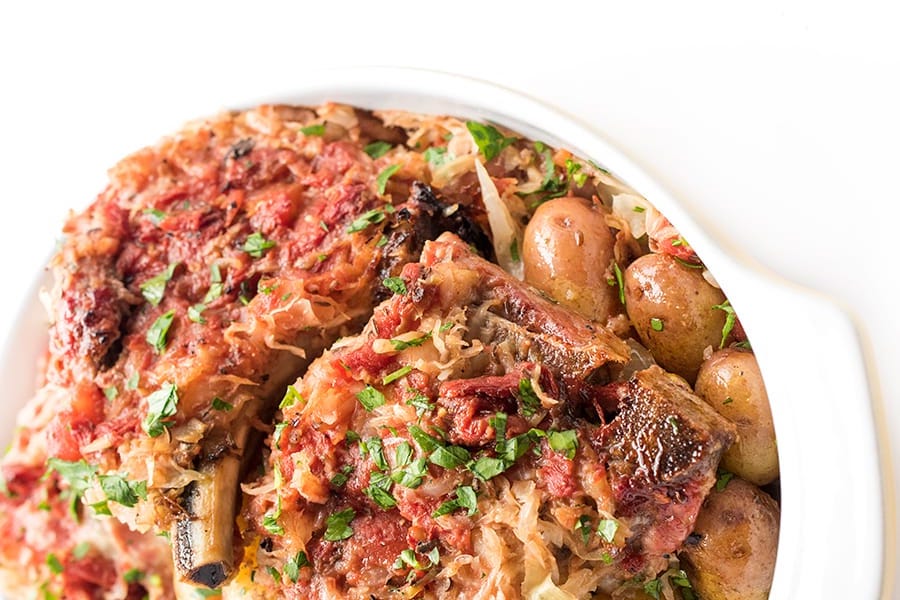 With 10 minutes of prep, this pork and potatoes sheet pan dinner is made with crushed tomatoes, onions, and delicious sauerkraut. Toss everything into a roasting pan and you'll have dinner on the table in an hour.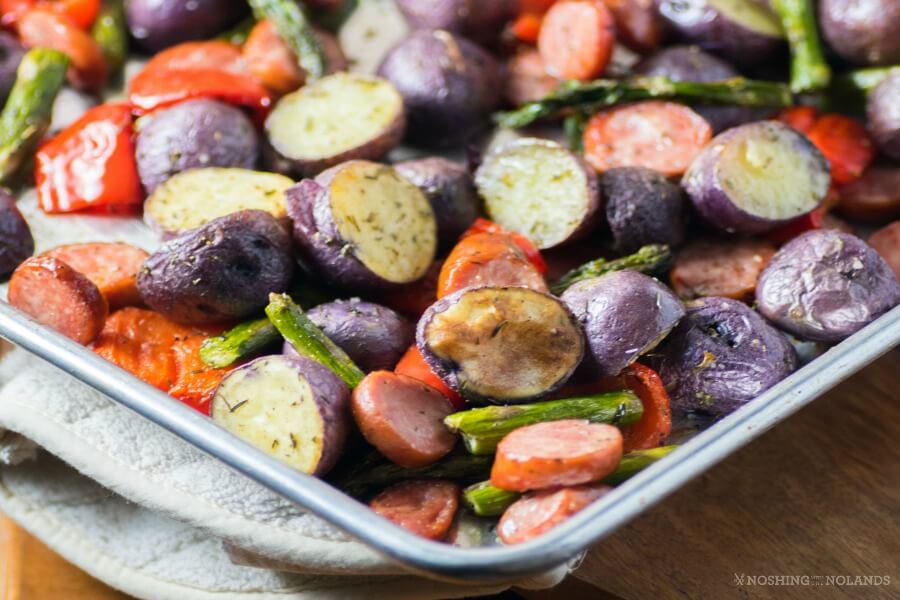 A quick 10 minutes to prepare this simple dinner recipe that calls for red onions, green beans, bell peppers, Little Potatoes, and some Italian sausages. Halve or quarter the potatoes to speed up cooking time as well. Spacing your veggies out on the tray will ensure they get nice and crispy instead of soggy.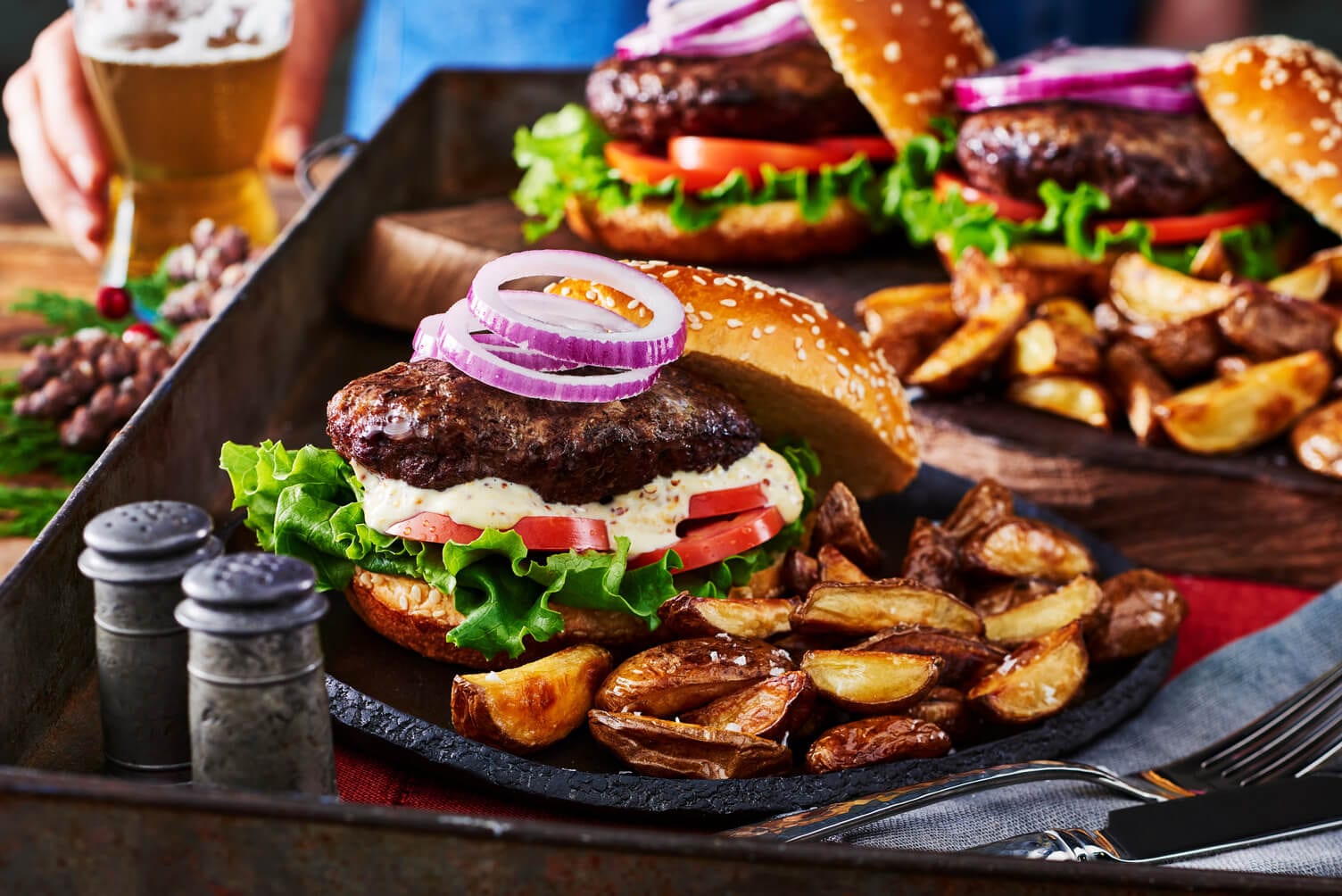 Perfect for a Friday night after a long week, these sheet pan burgers and mini wedges are ready in just over 30 minutes. The seasoning in the A Little Roasted Red Pepper & Onion makes for delicious home fries, and all you need are your favorite buns and burger toppings.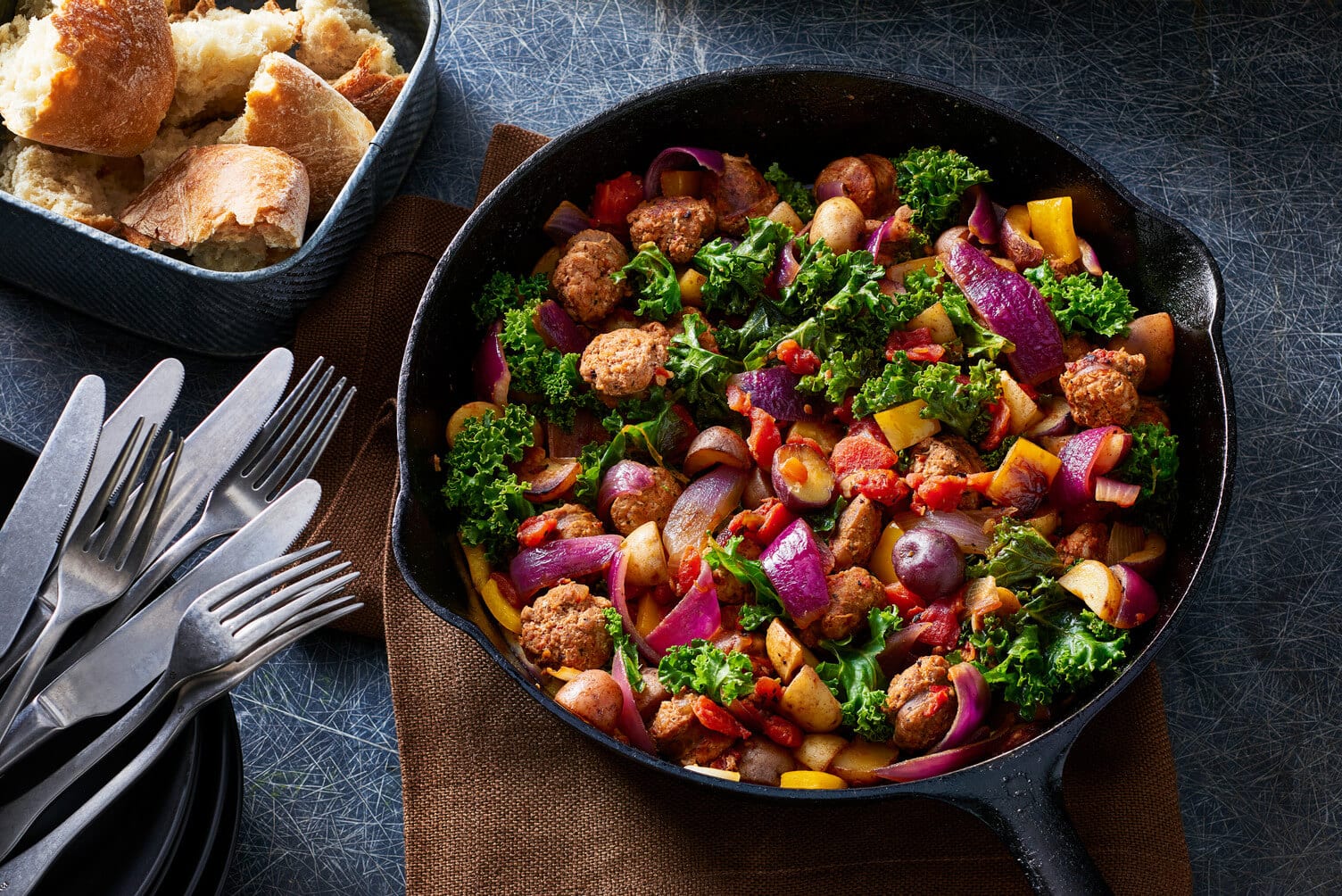 A stovetop one-pan skillet meal, this has sausage, kale, peppers, onions, and garlic for a deliciously flavorful combination. Using Microwave Ready Little Potatoes, or microwaving your potatoes for five minutes before adding them into the dish can be a nice way to speed up the cooking process so your potatoes will be fork tender in no time.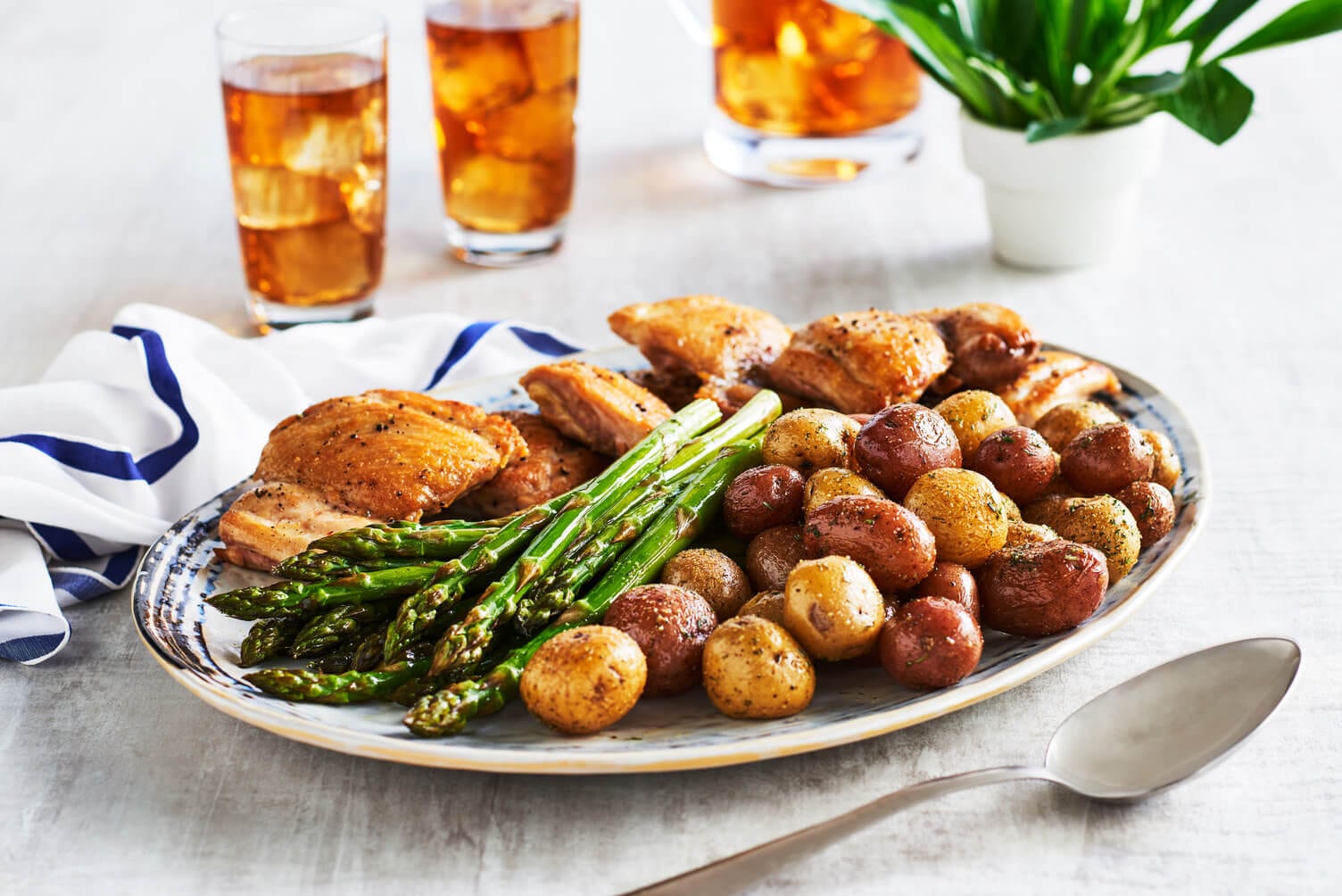 One-pan chicken thighs, asparagus, and Little Potatoes have everything you need for an easy dinner. The recipe calls for browning the chicken thighs before putting everything in the oven, but if you're short on time you can simply put everything on the tray and coat with oils and spices. The optional chimichurri variation is perfect if you have a few extra minutes to dress it up, but it's just as good without.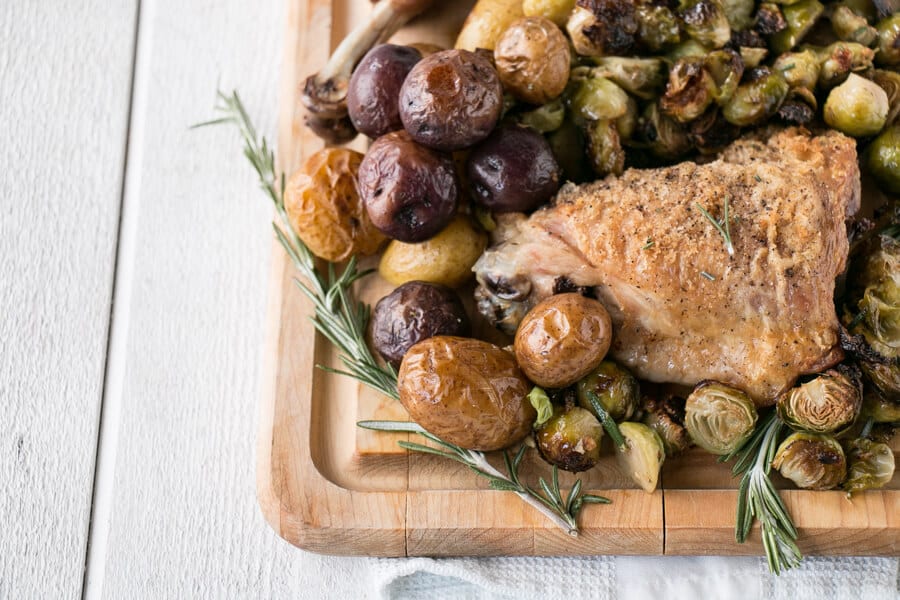 This turkey thigh and potato dinner is a breeze to put together. Brussels sprouts and potatoes are perfect to cook together because they crisp up in about the same amount of time. Doubles as a great low-key holiday dinner if you need something simple for two.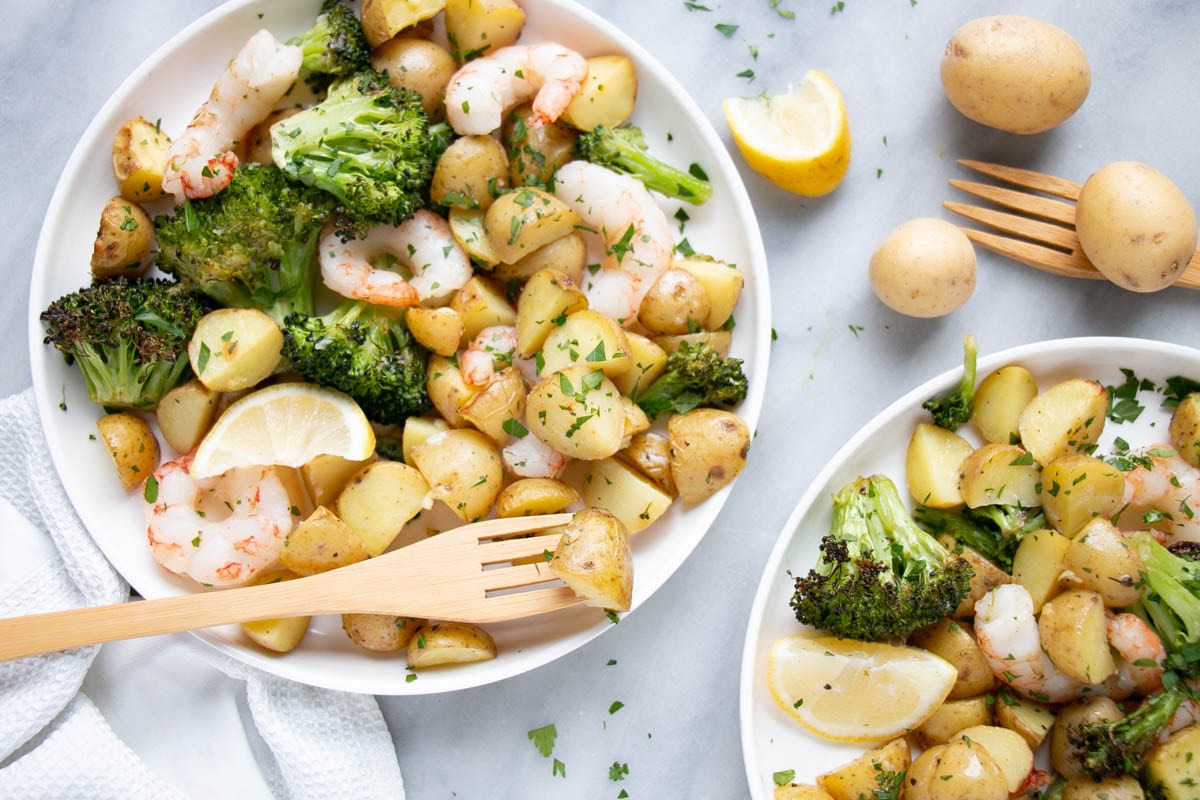 Using two pans instead of one can help your veggies spread out a bit and get nice and crispy instead of steam cooking. With shrimp, broccoli, and Little Potatoes doused with a generous squeeze of lemon, this dinner is quick to prep and quick to serve.